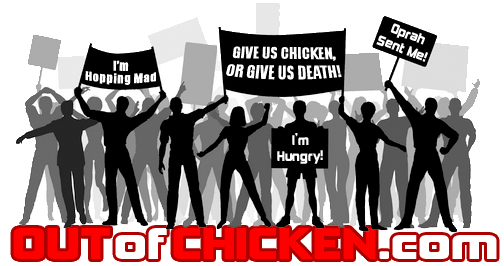 Out of Chicken!
We are in the middle of a national emergency! This is not little problem like swine flu or global warming, this is a real emergency- we are running out of chicken! Fast-food restaurants throughout the US have been turning away customers as a result of this problem and there is no end in sight.
This problem first came to light when Popeyes rolled-out a 8-piece for $4.99 chicken special in April 2009. Restaurants across the country were overrun with customers who came out for the deal. Many restaurants ran out of chicken early in the day and had to turn customers away. Several refused to honor the $4.99 special, causing customers to become outraged. Police were called in several instances and customers vented to the media.
On May 6th, KFC held a nationwide chicken promotion of its own. In a partnership with Oprah Winfrey, KFC released online coupons entitling customers to a free 2-piece meal of its new grilled chicken. Customers poured into KFC restaurants and many ran out of chicken early in the day. Once again news stations came out to cover the situation. The KFC coupons are valid until 5/19/09 and customers are still attempting to redeem them as KFC restaurants struggle to keep chicken and sides in stock.
As fast-food restaurants struggle to keep up with the demand for chicken, people across the country are suffering:
A man traveled nearly 20 miles by taxi to the Minneapolis, MN Popeyes for the $4.99 special and was turned away.
On May 7th, KFC customers without coupons who attempted to pay for their meals were attacked by customers who couldn't use their coupons.
In Arlington, a pregnant woman was robbed at gunpoint as she left a Popeyes with some chicken. The attackers threatened to shoot her if she did not give up the chicken.
Racial epithets were being spewed and the manager ran out of the restaurant after customers who didn't get their chicken staged a sit-in in New York.
Other Information
KFC is no longer offering the coupon for download, but Red Cross blood donors are now eligible for free grilled chicken coupons. More information is available in KFC restaurants.

Videos
| | | |
| --- | --- | --- |
| Popeyes restaurants across the country run out of chicken after tons of customers show up to take part in the pay day $4.99 chicken promotion. | A woman at a KFC drive-thru refuses to move her car until the restaurant accepts her Oprah coupon for a free grilled chicken meal! | |
| | | |
| Police have to be called after the only Popeyes in MN won't honor the $4.99 chicken promotion. | Hip-hop music video compiled from new clips of Popeys and KFC chicken shortages. | |
| | | |
| Radio DJs discuss the guy who took a cab 20 miles to get to Popeyes and couldn't get chicken. They believe this is a plan by Popeyes to make black people look bad because they are mad that Obama was elected president. | Howard Stern discusses the Popeyes incident as well as the Oprah KFC promotion. | |
| | | |
| KFC runs out of chicken after too many people show up to get the free grilled chicken meal that Oprah featured on her show. | | |
News
El Pollo Loco has announced that it will accept the KFC-Oprah coupons on Mother's Day! The 2-piece meal coupons are valid at KFC until 5/19, but can not be redeemed on Mother's Day. Hopefully El Pollo Loco will be be better prepared for the promotion than KFC or Popeyes. El Pollo Loco stated:

"What does KFC have against Moms? Seeing that Mother's Day is coming up on Sunday, May 10th and that KFC is excluding this day for the redemption of their free two piece meal coupon, we want to invite Moms everywhere to bring their KFC coupon into El Pollo Loco on Sunday, May 10th to receive a FREE two-piece meal that includes two pieces of El Pollo Loco's fresh, natural, citrus-marinated, flame-grilled chicken, a choice of two small sides, plus two tortillas and fresh salsa."


A mission in West Virginia was given 100 of the free meal coupons by local schools and businesses. When the mission attempted to redeem the coupons to feed people in their cafeteria, they called KFC and learned that there was no grilled chicken available. KFC would not allow any substitutions and the mission has been unable to use the coupons so far.
NATIONAL EMERGENCY ALERT!
We are running
OUT of CHICKEN!
Fast-food restaurants across the country are running out of chicken! OutofChicken.com is on top of this national emergency and is committed to investigating this problem and all of the people it has hurt.

Help Spread Awareness with a T-Shirt!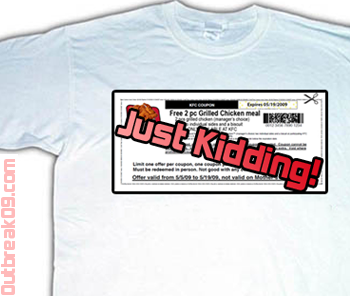 KFC "Just Kidding" Oprah Coupon T-Shirt (100% cotton)


Black "We Ran Out of Chicken @ Popeyes" T-Shirt (100% cotton)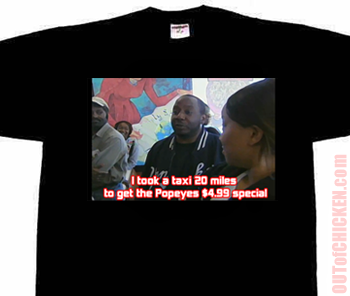 Black "I took a taxi 20 miles to get the Popeyes $4.99 special" T-Shirt (100% cotton)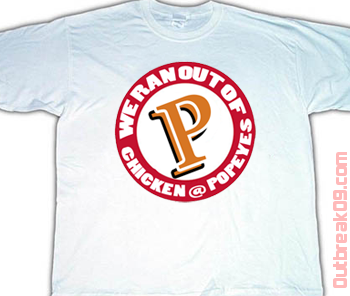 "We Ran Out of Chicken @ Popeyes" T-Shirt (100% cotton)